Decals by Haley 21 Pack Hard Hat, Tool Box, Tool Chest, Lunch Box Ameirican Flag Stickers Proudly Made in USA! Perfect for Construction, Electrician, Oilfield, Military, Fire Crew, Mechanic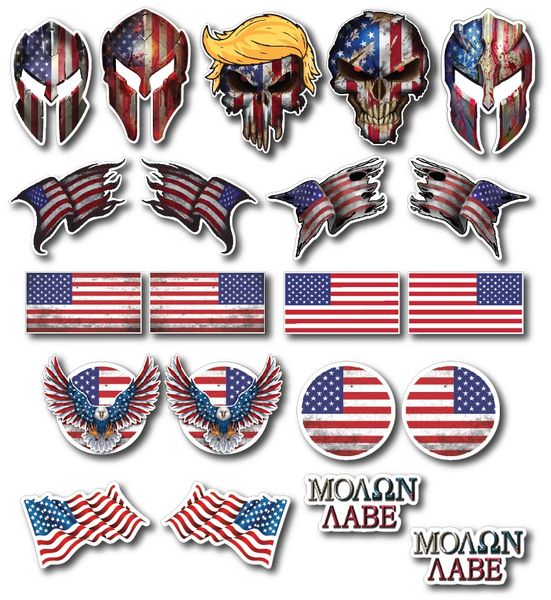 Description
We've just made the most American Hard Hat Sticker Pack ever! With 21 of the top-selling American themed designs on the interwebs crammed into one place, you will have more than enough America for all of your stuff! There is simply too much America in this pack of badass stickers for any single hard hat or toolbox.
Product Description: You are buying a 21 pack of ORIGINAL DESIGN Patriot Edition hard hat decals!!!  They are also great for helmets, coffee cups, laptops, windshields, bumpers, pretty much any clean, smooth surface! Each decal is printed on 3M high quality vinyl using industry leading eco-solvent ink and meticulously cut to shape using state of the art cutting technology. 

EACH ORDER INCLUDES EVERYTHING YOU SEE IN THE PICTURES!! 
(2) Skull stickers @ approx. 3" tall
(3) Helmet stickers @ approx. 3" tall
(6) waving flags @ approx. 2.5" wide
(4) American Flag stickers @ approx. 2.5" wide
(2) Eagle Flag circular stickers @ 2.5" wide
(2) American Flag circular stickers @ 2.1" wide
(2) 2.5" Molon Labe stickers
PLUS SOME FREE SWAG!
Shipping: We will generally ship your order within 24 hours of payment, usually even much faster than that! Just look at our feedback! Our customers love our shipping speed! *Decals with FREE shipping will be sent USPS first class without tracking provided but don't worry! We will make sure you receive your decal!

Why Us? We produce and sell thousands and thousands of decals per week! It's all we do, and we do it FAST! We also strive to deliver the best customer service possible! We take complaints and issues very seriously and work quickly to resolve the issue. SATISFACTION GUARANTEED!

Proudly sourced and made in the USA!