25 Pack Funny Sticker Pack Prank Edition Gay Pride Flag Fake Electric Outlet Penis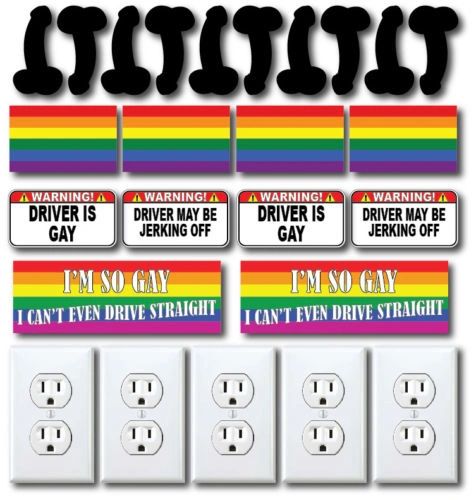 Description
Product Description:  You are buying 25 hilarious prank decals! Each one is sure to make you laugh at someone else's expense! It may even make them laugh too! Or it won't... Who cares! 

EACH ORDER INCLUDES EVERYTHING YOU SEE IN THE PIC! SIZES IN THE PIC ARE NOT TOO SCALE! SIZES AND QUANTITIES SHOWN BELOW:
(10) Penis Decals: 1" x 2" - Stick one of these on the bottom of a coworkers coffee cup, see how long until they notice! Put one over the laser sensor on someone's computer mouse then take a picture when they are pulling it off! Priceless! 
(2 each) DRIVER IS GAY and DRIVER IS JERKING OFF decals: 2" x 4" - Slap one of these onto some poor sucker's bumper! He will wonder why everyone keeps honking at him...
(2) I'M SO GAY I CAN HARDLY DRIVE STRAIGHT decals: 3" x 8" - Gay Pride is important! Stick one of these beauties onto your buddy's bumper to let his fellow driver know that he is out of the closet and proud of it!
(4) GAY PRIDE FLAG decals: 2.1" x 3.5" - How long do you think one of these could be on your friend's bumper without them knowing? You'll have 4 chances to find out with these fabulous Gay Pride flags!
(5) Reusable Electric Outlet Decals: approx. 3" x 5" - Think about it... How closely do you inspect a socket before you blindly jam your plug into it? With these 5 ultra-realistic decals, you'll have everyone in your house suspiciously rubbing every outlet to check if it is real while you laugh away in the background! These are printed on WallMark vinyl which is a fancy type of vinyl that won't screw up your paint! They can even be peeled off and reused! 

Shipping: We will generally ship your order within 24 hours of payment, usually even much faster than that! Just look at our feedback! Our customers love our shipping speed! *Decals with FREE shipping will be sent USPS first class without tracking provided but don't worry! We will make sure you receive your decal!

Why Us? We produce and sell hundreds and hundreds of decals per wek! It's all we do, and we do it FAST! We also strive to deliver the best customer service possible! We take complaints and issues very seriously and work quickly to resolve the issue. SATISFACTION GUARANTEED!


We produce and ship from Lewisville, TX right here in the good ol' USA!